AUTHOR • ARTIST • BRIDGE 2 LITERACY
Andrew's Story: A Book About a Boy Who Beats Cancer is the award-winning, true story of three-year-old Andrew and how he met the challenge of cancer in his life. It is a photo essay that journals his year with a story that brings hope to anyone going through a similar experience. It includes a glossary of new words he and his family learned about his illness and a note from his doctor.
Awards
National Council for the Social Studies (NCSS)
Children's Book Council (CBC)
Notable Social Studies Trade Book for Young People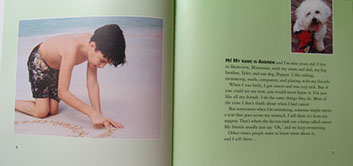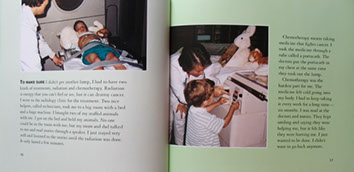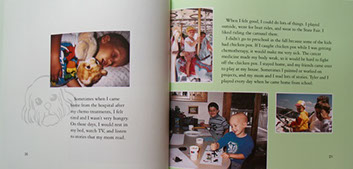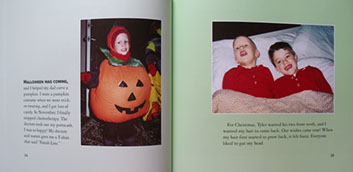 Reviews
Written in first person as though nine-year-old Andrew Bridge
is talking to readers, this book recalls the boy's diagnosis of and treatment for cancer when he was three. Color photographs taken
by Andrew and his parents help document the phases of Andrew's recovery from a childhood cancer that required surgery, radiation,
and chemotherapy. Andrew's brief, honest recollections of high-tech diagnostic tests, losing his hair, and missing preschool are balanced by accounts of fun outings he enjoyed on days he felt well. An important aspect of the book, which is also mentioned in an author's note for parents, is the discussion of the anger and confusion Andrew felt about invasive treatments that were supposed to help him when, in fact, they "felt like they were hurting." Written to encourage and inform young cancer patients, this readable book will also sensitize patients' healthy friends and family members to the issues surrounding the illness.
Ellen Mandel, Copyright © American Library
This account of survival of childhood cancer is told in the
voice of nine-year-old Andrew Bridge. When he was three, he was diagnosed with Wilms' tumor. Surgery, radiation, and chemotherapy followed, and today he is cancer-free. Andrew is honest about the inconvenience and discomfort involved in treatment, but he doesn't dwell on them. He is also honest about the conflicting emotions he experienced. Photographs of the child taken during his hospital stays accompany the text. Andrew's Story will be reassuring to children
who have cancer themselves or who have friends with the disease.
Kathy Piehl, Minnesota State University, Mankato
Copyright 2001 Cahners Business Information, Inc.


1251 Washington Ave North
Minneapolis, MN 55401
800-328-4929